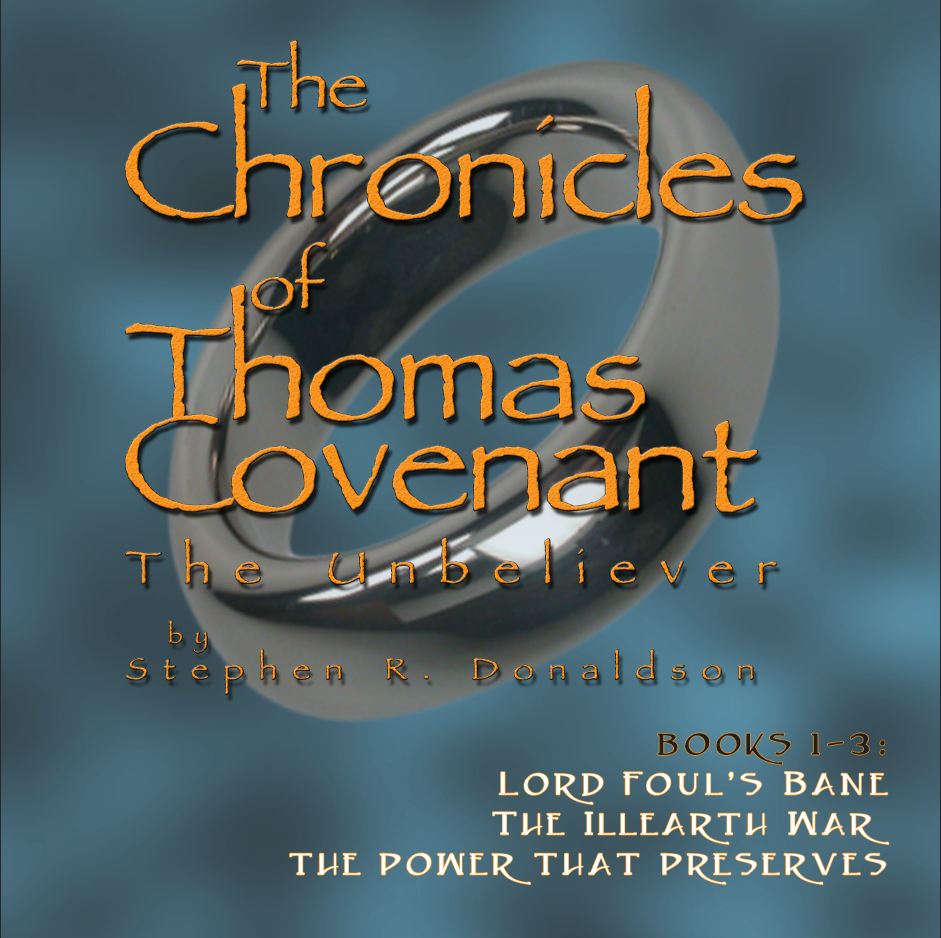 The Chronicles of Thomas Covenant, The Unbeliever, The Complete Trilogy
[widgetic-audio-play-button id=592f4192ecb2a141258b456b autoscale=on width=280 height=35 resize=allow-scale-down]
By Steven R. Donaldson
Read By Scott Brick
Scott Brick Brings Stephen R. Donaldson's Trilogy THE CHRONICLES OF THOMAS COVENANT, THE UNBELIEVER To Audiobook! 
It has been 30 years since Stephen R. Donaldson first introduced Thomas Covenant to legions of fans across the world, but it took Audie Award-winning narrator Scott Brick to bring THE CHRONICLES OF THOMAS COVENANT to the audiobook world.
"What particularly impresses me about Scott Brick is his commitment to accuracy. He has spent a significant amount of time ensuring that his reading of my books is true to my intentions: not an easy thing to do, considering that some of my locutions and neologisms  cause heart attacks in cattle."

Stephen R. Donaldson (THE CHRONICLES OF THOMAS COVENANT)
Now you can sit back and listen to this top audiobook narrator tell Stephen Donaldson's masterpiece, THE CHRONICLES OF THOMAS COVENANT, THE UNBELIEVER, complete and unabridged, for the very first time.  Listen as Thomas Covenant – leper, outcast, unclean – finds himself wrenched from our world and dropped into an otherworldly, magical realm. There, Covenant's diseased body is mysteriously healed – and he himself is hailed as a savior by some, marked for death by others.
Bonus Feature: This collection features an exclusive 30-minute interview with author Stephen R. Donaldson, who delves into his memory for intricate details about the creation of both Thomas Covenant and The Land, including his original inspiration, the series' intricate theological basis, and special information on its rare outtakes.  It's a unique insight into the creative genius behind the vast, sprawling epic that's not to be missed.
Scott Brick has fond memories of Donaldson's series. The first time he read the first book in the series, LORD FOUL'S BANE, Scott was so wrapped up in the story that he skipped studying for college finals to finish the book. (Don't worry, he graduated just fine.) Now Scott is able to give back to fellow Covenant fans by bringing the first Thomas Covenant trilogy (LORD FOUL'S BANE, THE ILLEARTH WAR, and THE POWER THAT PRESERVES) to audiobook, as well as FATAL REVENANT, the eighth book in the series.
Copyright 1977 by Stephen R. Donaldson. 
Production copyright 2008-2009, Scott Brick Productions, LLC.
Type: UNABRIDGED
Length: 61 hours & 44 minutes
Released: Nov 30, 1999


---
---
More from this collection